Right Here Northumberland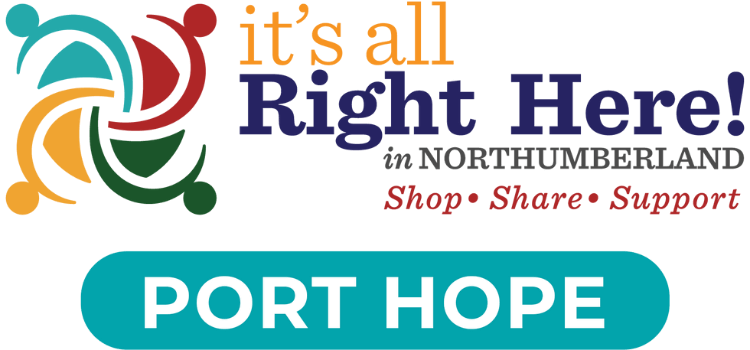 The Northumberland County It's All Right Here! campaign is a joint venture by the four county Chambers of Commerce: Brighton Cramahe, Trent Hills, Port Hope & District, and Northumberland Central. The campaign has been created to showcase the breadth of goods and services available across the county, as well as in each region — with an emphasis on inclusivity and safety.
Port Hope is bursting with incredible people doing wonderful things — providing rich consumer experiences for procuring both the 'need to have' and the 'nice to have'. We welcome everyone here and pride ourselves on inclusivity.
Port Hope is host to an amazing variety of shops, restaurants, services, makers, growers and producers. The It's All Right Here! Campaign has highlighted these local businesses and business sectors to show that we really have so much to offer right here in Port Hope. With over 30 social media posts, plus radio, print, video, events and more, all in support of shop, share & support local. 

Throughout the campaign, there has been a focus on being kind. We've been tested in unexpected ways over the past 2 years, and been reminded of what truly matters in life. It has been so uplifting to see acts of kindness during the pandemic — neighbours helping neighbours, families pulling together, support for our local businesses, manufacturers and artisans, and acts of gratitude. The community we have built together is strong and both resilient and innovative.
Before making a purchase from a large e-tailer or big box store, check locally — chances are you will find that item right here in your own backyard. And remember, by supporting local businesses, you are helping your communities thrive and prosper, helping to create more jobs and always having access to great products and services and a personal customer service experience. Shop local and click local because it's all right here in Northumberland.
DISCOVER THE POSSIBILITIES!